The Guide
Online

The modules listed below include downloadable resources and an end-of-module quiz. Progression through the modules is forced, meaning the learner must work their way, in chronological order, through all content.
Module 1: The Broker's Responsibility 13 Lessons (30 Minutes)
Module 2: Broker Transactions 14 Lessons (30 Minutes)
Module 3: Technical Knowledge 15 Lessons (45 Minutes)
Module 4: Laws and Regulations 14 Lessons (45 Minutes)
Module 5: Ethics & Business Practices 11 Lessons (20 Minutes)

Subscription Pricing
| | | |
| --- | --- | --- |
| | Member | Non-Member |
| Per Module | $25 | $32 |
| Package | $100 | $135 |
Subscriptions are individual: Only the individual assigned to the subscription will have access to the LMS and content. Access is controlled by a user-specific ID and password. A certificate of completion, for each module, will only be provided in the name of the individual identified in the subscription order.
Length of subscriptions: Individuals will have access to the content for approximately 120 days; all subscriptions would expire on the last day of the 4th After that date, the content will no longer be available, and they will be marked Inactive in the LMS. Example: A subscription purchased on February 9 would expire May 30; a subscription purchased on February 27 would also expire on June 30.
Purchase the Guide Hard Copy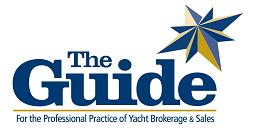 The Guide for the Professional Practice of Yacht Brokerage & Sales, the complete reference and training guide for yacht brokers who are committed to their success.
Based upon the CPYB program Body of Industry Knowledge and including a variety of helpful resources and sample documents, The Guide is a useful three-ring-binder publication addressing the following key topics:
Laws & Regulations, including legal reports and updates
Technical Knowledge, including vessel types and construction, systems and terms
Brokerage Transactions
Yacht Broker Responsibilities
Yacht Broker Ethics
The Guide also includes a Glossary of Terms, links to appropriate industry websites, copies of association Codes of Ethics, and, sample contractual forms, including Listing Agreements, Purchase & Sale Agreements, Acceptance of Yacht forms, and related transaction forms.
The Guide was developed and written in response to requests from, and to meet the needs of, two segments of the yacht brokerage community. For those individuals preparing to enter the profession as neophytes, The Guide provides a comprehensive overview of the key skills and knowledge required to become a professional yacht broker. Combined with appropriate in-service and on-the-job training within a qualified brokerage firm, new yacht brokers will be better prepared for the demands and rewards of their chosen profession. Their clients, likewise, will be better served through the broker's commitment to their profession.
For experienced yacht broker professionals who are seeking to earn their credentials as a CPYB - Certified Professional Yacht Broker - The Guide serves as an excellent tool to prepare candidates for the CPYB examination; used alone as a study manual, or as a reference text when participating in formal CPYB Study Sessions.