Sponsorship & Advertising Opportunities
YBAA is pleased to offer sponsorship packages to members that include year-round promotions on the YBAA website, newsletter, social media, education initiatives, and more. Support YBAA and help facilitate YBAA's dedication to assisting members in improving their professional competencies and enhancing their business success through training, education, and information resources. There are several levels to fit every budget.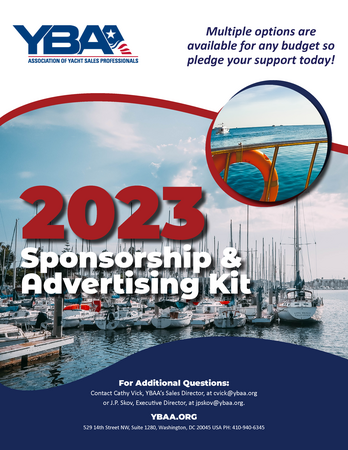 Advertise or Sponsor with YBAA!
Increase your presence in the yachting industry through YBAA advertisement opportunities. The YBAA e-Newsletter reaches over 2,500 YBAA members and prospects, industry trade press, and business services, partners. Feature your company ad and link on a 6 or 12-month basis. Consider placing an ad on YBAA's social media channels. Your 30-second commercial or image will be posted and shared reaching countless potential customers during the month of your choosing.
It's an investment that can create new opportunities. First come, first served. Submit your ad copy or questions to Devin Robinson, Sales Associate at drobinson@kellencompany.com.